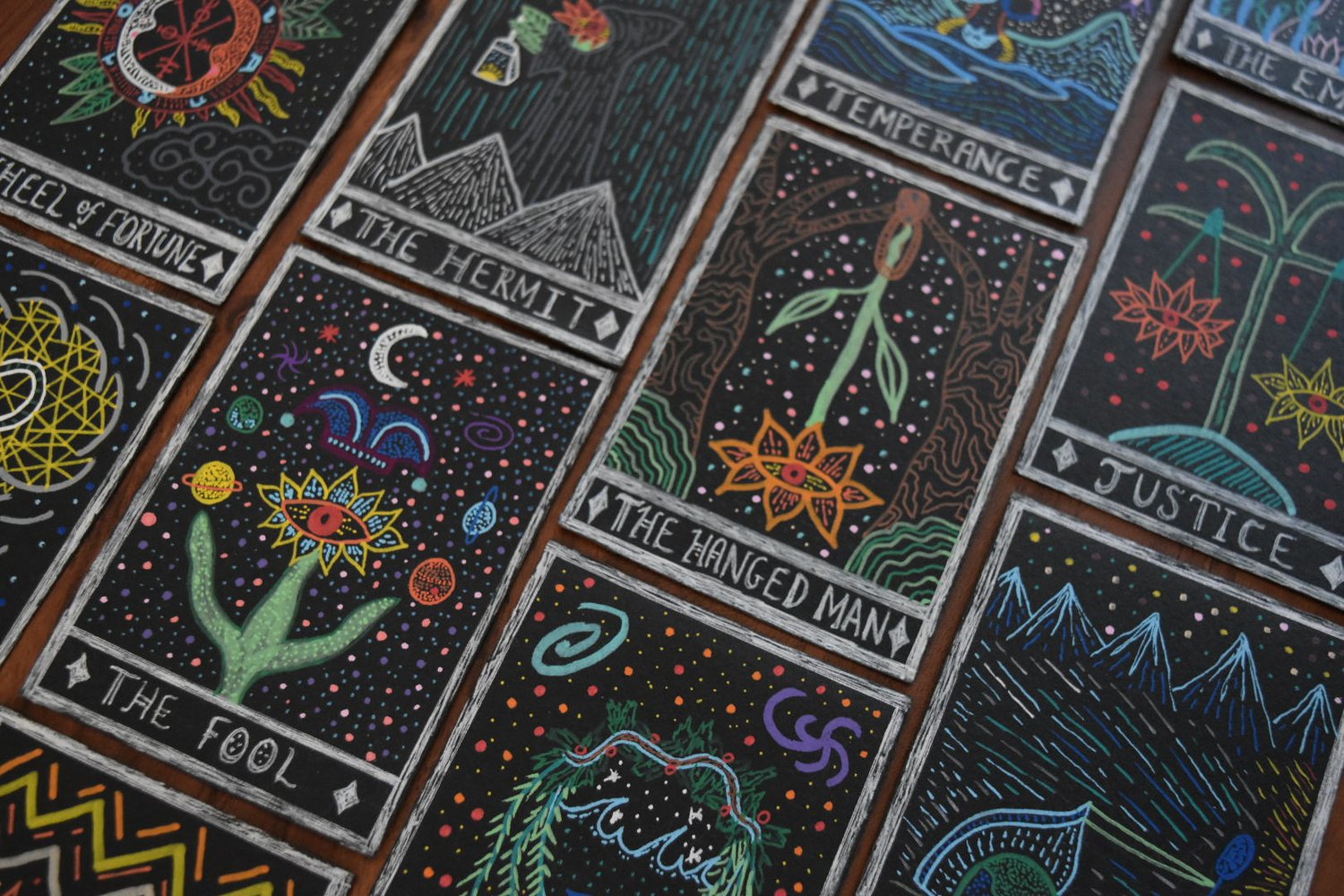 Sacred Conscience Custom Tarot Cards and Deck
"Open your heart, Unchain your mind. Be free of the falsehoods which cloak us over time."
Find your path; Trust the Journey.
Sacred Conscience, Custom Hand Painted Tarot Card Deck.
All cards are Hand Painted with love, care and attention using Earth Friendly inks. They are manifested through meditation, pure concentration and the influence of the state of higher consciousness.
Inspired by the Original Tarot Card Titles and Re-imagined with the themes of Higher Consciousness, Sacred Geometry and a love for Mother Earth.
This deck can contain 78, 22 or 7 Hand Painted cards, based on the classic Tarot Card deck. If you would like a different number of cards/different card titles or themes, shoot me a message because i would love to bring your vision to life. I am also happy to use different langauges for the card titles. This is a custom deck because you can request changes or simply purchase the style of deck photographed above.
Each 78 and 22 card deck includes a Hand Painted and Hand Designed Box, made from Recycled Card. You can request a box for 7 cards, for a £5 additional fee. Send me a message to arrange this.
Deck Size Options:
*78 Card Full Deck
* 22 Major Arcana
* 7 Chosen Cards (Leave a note at the checkout with the names of the cards you would like to receive)(Or leave a note requesting a random selection)
*Set of 4 Cards
*Single Card
*Custom Deck (Message me to organise the creation of a custom deck with your chosen number of cards)
Tarot Deck Details:
* Hand Painted in Full Colour with Earth Friendly Inks
* Painted on beautifully thick and texture design 220gsm Black Card
* Signed and Numbered
* Each card has been hand painted individually, you are purchasing original artwork, not a print or scanned copy. I'm a lover of unique artwork and you deserve something special.
PLEASE NOTE: The shipping cost for this item is currently set for a full deck and box, if you are ordering individual cards, send me a message before placing your order and I will send you a discount code to knock down the postage cost. :)
My full Tarot decks take around 3-7 days to complete.
If you are purchasing this as a gift, i can also paint a personalised message (free of charge) onto the back of the box.
I can also create larger artwork versions of these cards, message me if you'd like an A6/A5/A4 Painting based off one of the card designs.
Tarot Cards are my favourite pieces of art to create and I hope you can see that transfer of energy in the work that I create.
Instagram: @lupineheart.artwork